Tim Loughton:
Azerbaijan after it invaded the territory of Nagorno-Karabakh, and it is now clearly intent on waging illegal, immoral and inhumane suffering on the Armenian population of this troubled corner of south-east Europe that borders Asia.
So caption : Tim Loughton in his speech during the Debate on Lachin Corridor Blockade said:
Another: Tim Loughton: The OSCE Minsk Group, co-chaired by France, Russia and the United States, has been routinely obstructed by the Azeris
Tim Loughton:
the Azeris invaded, terrorised and occupied large parts of Nagorno-Karabakh, leaving an effective island of Armenian-populated territory linked to Armenia only by a narrow strip of territory known as Lachin corridor. It is literally a lifeline—it is known as the road of life.
The remainder of Nagorno-Karabakh was left isolated and surrounded on four sides by a deeply xenophobic state with a clear intent to eradicate or expel the population.
These are snap shots of important sentences from Tim Loughton's 30 minute speech
Those of us in the delegation I mentioned met refugees from Nagorno-Karabakh. We went down to the border town of Goris. Many came across from Nagorno-Karabakh to meet us, because we were not allowed to go into Nagorno-Karabakh. They gave us their first-hand testimonies of the appalling oppression that they had been suffering, and of course things have got so much worse since the blockade of the Lachin corridor.
There are photographs of all those people protesting. They are not environmentally conscious civilian protesters. They are put there, paid for and supported by the Azeri state and Government, and they should stop pretending otherwise. In effect, they are agents of the Azeri Government who are blocking the Lachin corridor.
Nagorno-Karabakh has offered to allow UN environmental agencies full access to the mining activity, in order to show that it is being carried on quite normally, although the blockading of a lifeline would not be justified even if it was not being carried on quite normally. Nevertheless, Azerbaijan has refused to engage.
So, 43 days on, it is clear that this blockade is deliberately fabricated and controlled by the Azerbaijan Government. It is part of an ongoing campaign to intimidate the 120,000 Armenian population; to starve them out, freeze them out, drive them into poverty and sickness, as part of the Azeris' disgraceful ethnic cleansing campaign, while the rest of the world looks on, and all eyes are, of course, on Ukraine.
It constitutes a crime against humanity and meets the criteria under the genocide convention, including creating unbearable conditions for a group singled out in this case due to its ethnicity, and aiming to inflict harm and achieve displacement from their homeland. Those actions include subjecting the entire population to psychological terror; cutting essential supplies, such as gas, electricity and the internet; prohibiting the free movement of people, goods and medical supplies; and gradually starving the population.
Armenia is in a quite parlous position. It is weakened greatly by the previous war inflicted on it by Azerbaijan. It is facing the military force of the Azeris, backed by their cousins in Turkey, with sophisticated kit from Israel. They have a Russian military base on Armenian soil. They dare not offend the Russians, because they need the Russians to be peacekeepers, though that clearly is not happening. They are between a rock and a hard place.
Apart from being a moral issue that we should take an interest in, it has big implications for the geopolitics of this important but unstable region, with Turkey, Russia and Iran to the south all flexing their muscles with neo-imperial territorial ambitions. Armenia and its next-door neighbour Georgia sit in the middle of it. The people of Armenia have been persecuted for more than 100 years, and I presented a Bill to the House recognising the Armenian genocide. The west has a duty to step in and play at least honest broker, but preferably peacekeeper and security guarantor
The ceasefire breaches, the attempts at genocide, the aggression have all been pretty one-sided. Just telling the two parties involved to be nice to each other, as I fear is too often the case from the Foreign, Commonwealth and Development Office, has achieved nothing.
The Government really need to come off the fence. A clear perpetrator is abusing the human rights of the population of Nagorno-Karabakh and has continually intimidated the peace-loving people of Armenia, who just want to live safely and in peace. We need to be more forceful and proactive, and to come down on the right side. I urge the Government to use their leverage to facilitate the immediate opening of the Lachin corridor, to sanction the members of the Azerbaijani elite who are responsible for the humanitarian crisis, to deter Azeris from committing further atrocities with impunity in the future, to send immediate humanitarian aid to the people of Nagorno-Karabakh, to demand that Russian forces stop blocking access for international aid agencies, to support the people of Nagorno-Karabakh's right to self-determination in order to save them from ethnic cleansing, to join the EU Parliament and other allies in threatening sanctions, and to agree to be part of the UN, OSCE or European fact-finding mission.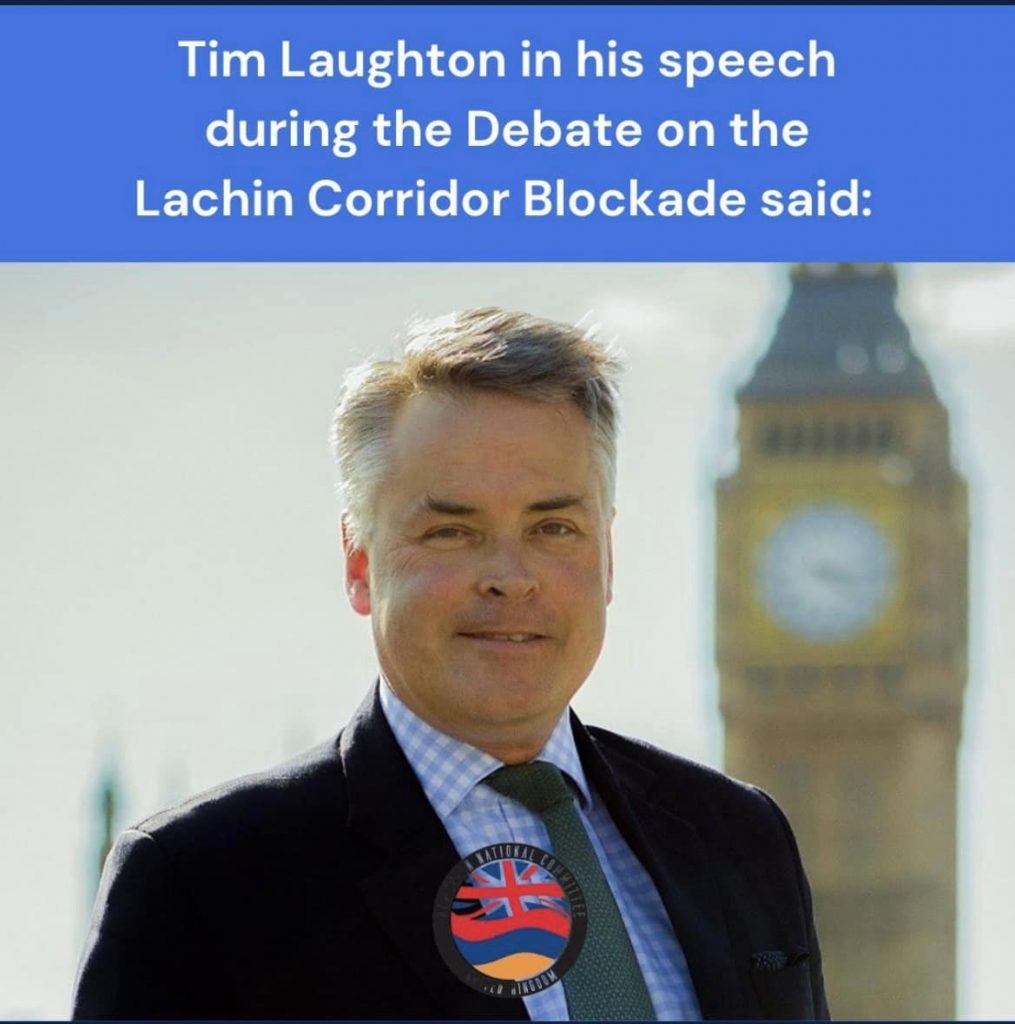 Judith Cummins:
Given the unfolding humanitarian crisis, which is due to the closure of the Lachin corridor, does he share the belief that a United Nations or OCSE fact-finding mission should be established to assess the humanitarian situation on the ground?
John Spellar:
but might there not also be a role for the OSCE or indeed for the European Union in this context? The situation requires urgent international action. Even though we are obviously focused on Ukraine, we should not ignore this struggle.
Giles Watling: Russia is failing to uphold its role as guarantor of Armenian security.
Although Russia may not be the actual aggressor, regional instability presents a great chance for it to advance a plan that has been, nakedly, two decades in the making: rebuilding the geography of the old Soviet empire.
Azerbaijan must consider how the world now watches it and its friends. The president of Azerbaijan spoke about the Lachin corridor blockade that is causing such humanitarian suffering, saying that the action will continue until the demands of Baku are met. He said:
"Whoever doesn't want to become our citizens can leave, the road is open. They can go by the cars of the Russian peacekeepers, by buses, no one will impede them."
Does that not smack of an Israeli-Palestinian sort of answer? Are we not talking about a Berlin corridor or something like that?
We must support nations such as Armenia to maintain their place in the region or else, step by step, an expanding empire will be upon us all. The Lachin corridor must be opened. People are suffering and dying. I look forward to hearing the Minister's comments.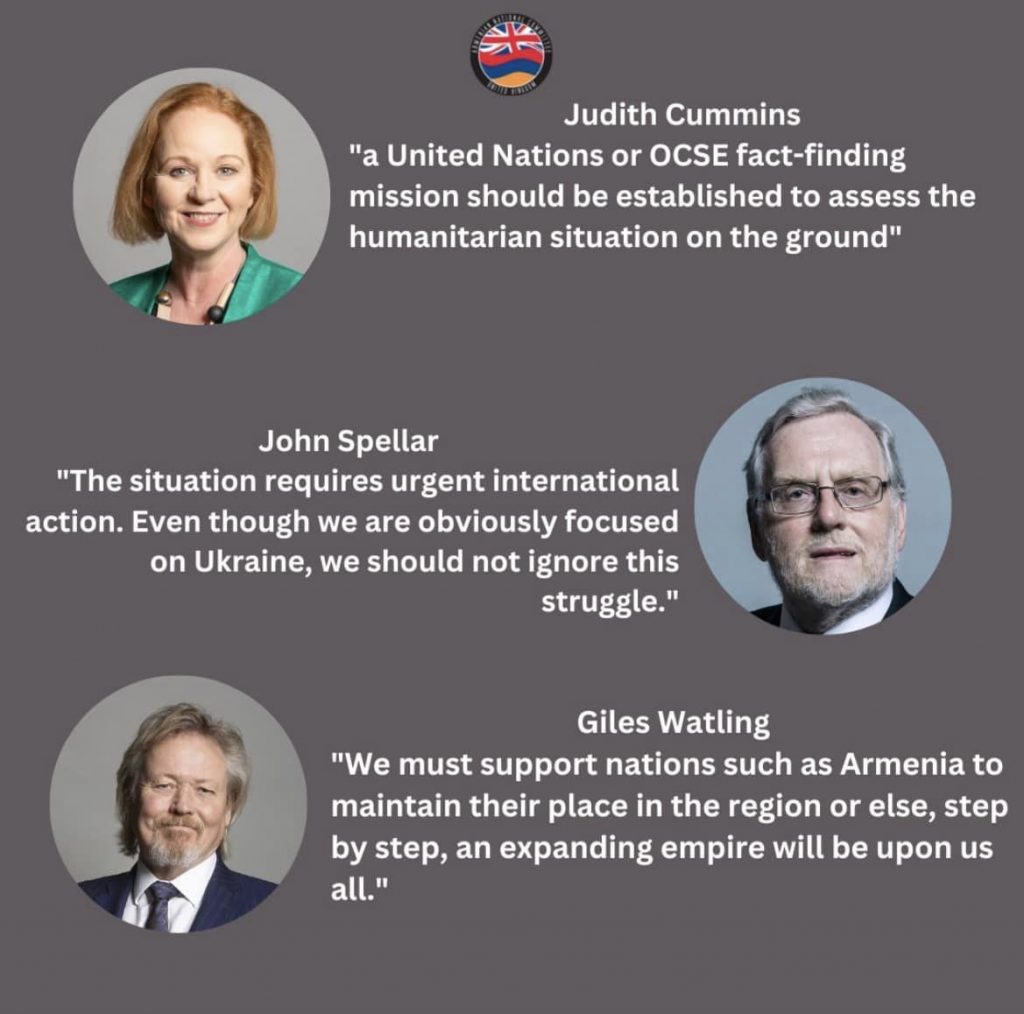 Jessica Morden:
the population in Artsakh, where people are under siege and cannot travel. They are cut off from food, medical and other vital supplies and are still enduring energy blackouts in the depths of a harsh winter.
I join the hon. Member in condemning the blockade by Azerbaijan and asking the UK Government to do all they can to help with their diplomatic levers. The people of Nagorno-Karabakh have the right to live freely and independently.
I am keen to hear from the Minister what role the Government will play by joining other countries in their condemnation. Of course, it is important that the persecution and terrorisation of the Armenian Christian population is met with united international condemnation, but it is also important that the UK Government use their leverage as a close diplomatic trading partner of Azerbaijan.
It would be good to know what discussions the Government have had about working with other countries on the logistics of an airlift and whether the Government are supportive of the EU's joint motion on the blockade, which was made last Wednesday, and to understand the Government's position in respect of the Caucasus.
Speaking to Armenians and the Armenian diaspora, it is hard not to be struck by their deep longing for peace—a burning desire informed by tragic history. It is understandable, then, that the Armenian people are more alert than most to where intolerance and violence can lead unless a light is shone upon it while there is still time. This is such a moment and the international community has a duty to do all it can now to work towards peace.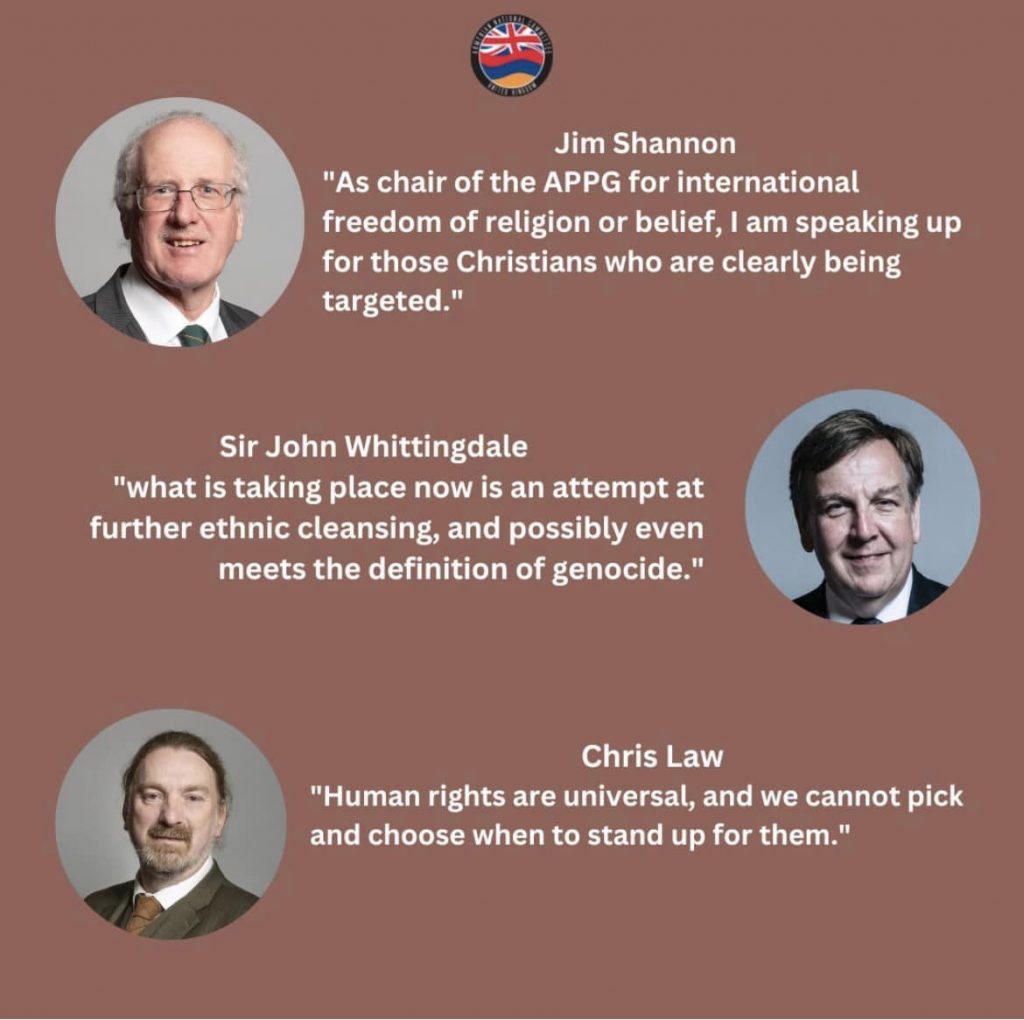 Jim Shannon: DUP
It will be of grave concern to us that more than 20 organisations, including Christian Solidarity International, the Humanitarian Aid Relief Trust and Genocide Watch, say that the blockade is designed to, in the words of the genocide convention, deliberately inflict "conditions of life calculated" to bring about the end of a
"national, ethnical, racial or religious group"
in whole or in part. Such groups warn that the current Azerbaijani aggression against Armenians in the Nagorno-Karabakh is consistent with a history of ethnic and religious cleansing of Armenian Christian communities in the region.
As chair of the APPG for international freedom of religion or belief, I am speaking up for those Christians who are clearly being targeted.
the Christian Armenians who are suffering greatly. What can be done urgently? We can make a start on a resolution by ensuring the presence of international monitoring and peacekeeping troops in the region to help to restore balance to the weakened Armenians in the face of Azerbaijani self-interest. The Russia-brokered ceasefire, which helped to re-establish the safe corridor, is no longer working
What assessment has been made of the role of the Russian peacekeepers? It is almost a contradiction in terms to have a Russian peacekeeper; they really have no idea what peace is. What possibility is there of sending international peacekeepers to the region? It is alarming that the Azerbaijanis, claiming to be environmental activists, can bypass the Russian checkpoints and then go on to block the Lachin corridor. Have any representations been made to Azerbaijan in the light of the recent decision to start importing gas from Russia at a time when Europe stands united in cutting ties with it?
Carol Monaghan SNP
the UK and Azerbaijan last year was over £1 billion, which gives us some leverage. It is not clear from the answers I received, or indeed from what we have heard so far, how humanitarian issues factor into any trade relations, so we need some detail from the Government on that. How can we on the one hand denounce the actions that lead to a humanitarian crisis, while on the other hand seek to increase trade with the very same state?
We should be looking at sanctions and international monitoring of the situation, including supporting a humanitarian airlift mission to get supplies into Nagorno-Karabakh. Ultimately, we need the blockade lifted.
Chris Law SNP
As a member of the International Development Committee, I participated in a recent report on atrocity prevention. One thing I learned is the importance of language and how rhetoric plays a role in creating the conditions for crimes against humanity. After all, words are deeds. For years, Azerbaijan and its allies have used hate speech against Armenians. Indeed, the President of Azerbaijan, Ilham Aliyev, proudly admitted that a generation of Azerbaijanis had been brought up to deeply despise Armenians, and he has negated the existence of Armenia as a nation, stating:
"Armenia is not even a colony, it is not even worthy of being a servant."
The UK Government has seen no evidence that ethnic cleansing is taking place or that the conflict is religiously motivated."
Is that still the case? Why is the Minister ignoring the calls by international organisations warning about ethnic cleansing and genocide? Is it not the FCDO's stated intention to be
"a force for good in the world"?
Human rights are universal, and we cannot pick and choose when to stand up for them depending on the identities of perpetrators or those who abuse them.
President Aliyev of Azerbaijan, who said,
"Yerevan is our historical land and we Azerbaijanis must return to these historical lands".
That is a statement that puts a shiver through any self-respecting person's mind when we think about how that could be achieved.
Regardless of where our sympathies lie, the Azerbaijanis' actions mean that they are not only abandoning long-established international laws and norms, but reneging on the commitment that they made in the trilateral statement on 9 November 2020, which states that
"the Republic of Azerbaijan shall guarantee safe movement of citizens, vehicles and cargo in both directions along the Lachin Corridor".
That is clearly not happening.
The UK Government must fulfil their atrocity prevention responsibilities by working with the UN Security Council to require an immediate lifting of Azerbaijan's blockade, and we should look seriously at attempts to launch a humanitarian airlift.
On the issue of sanctions, effective pressure must be brought to bear. It cannot be in the interests of the UK or the wider world to have a weakened Armenia, which may well be the only true democracy in the region. More must be done.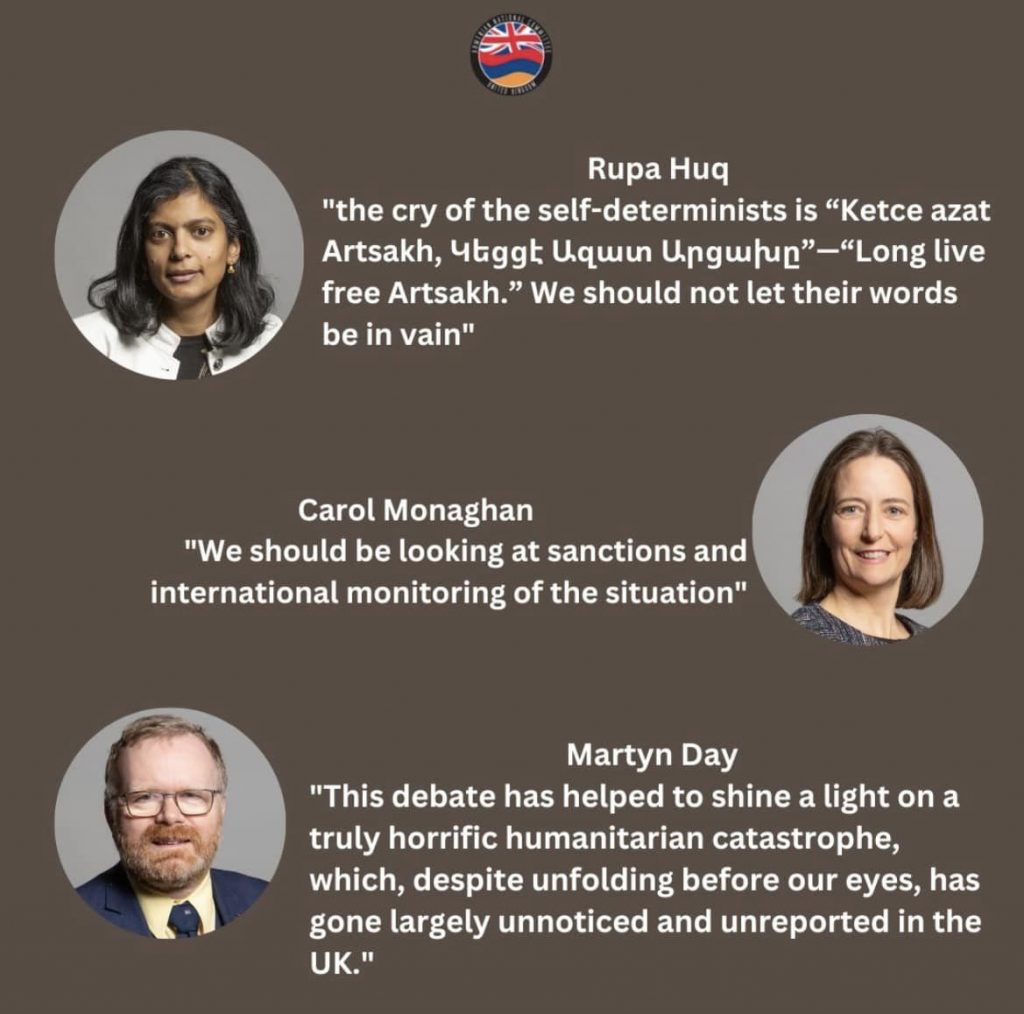 Stephen Doughty Labour Shadow Minister for Europe
I used to work for the OSCE parliamentary assembly in a past life and was an assistant to the special rapporteur on Nagorno-Karabakh at the time, the Swedish MP Göran Lennmarker. That was some years ago, in a more peaceful time, and it is deeply concerning to see recent events. Indeed, the official Opposition are deeply concerned about the situation in Nagorno-Karabakh and the people who are besieged and cut off because of the blockade of the Lachin corridor, which we think must end. This is a humanitarian crisis and undoubtedly worthy of the House's time. It is an area on which I hope the Minister and the Government will focus intently if we are to avoid further catastrophe for civilians both in Nagorno-Karabakh and in the region as a whole.
It is clear to us that unless a peaceful resolution is found, civilians in the region face further perils. That has to start with the ending of the blockade and the preservation of Armenia's territorial integrity.
We favour fully working with our European and regional partners to secure a return to dialogue more broadly and a peaceful settlement facilitated by, for example, the OSCE Minsk Group. Of course, that has to start with removing this blockade, which is a complete impediment to progress.
From responses to parliamentary questions and the contributions that have been made today, it appears that the Government's strategy is to watch and wait. It is apparent that, without the UK and others providing a diplomatic impetus to seek peace, violence, discord, instability and humanitarian catastrophe will remain. The Government do not seem to be operating with the same urgency as other Governments around Europe, the United States and others.
I would be very interested to hear the Minister's comments on them. There have also been serious allegations about matters in Azerbaijan. I have had serious concerns raised with me—I hope the Minister can comment on them—about Azerbaijan bringing in gas from Russia in recent weeks. Of course, it exports gas to the rest of Europe. Given the key role that our own oil and gas industry plays in Azerbaijan, I would like the Minister to give us some more detail on that.
Can the Minister say when the Government will set out a wider regional strategy for the Caucasus that spans diplomacy, aid and trade but also, crucially, atrocity prevention and human rights? It has been mentioned a number of times during the debate that language matters. It is important that the Minister listens to the comments by the hon. Members for Dundee West (Chris Law) and for East Worthing and Shoreham, particularly as we are in a week when we recognise the terrible impact of the holocaust, with all of us committing to preventing atrocities and ensuring that they never happen again. Will the Minister also say what is being do.
In conclusion, Russia has shown clearly that it is no guarantor of regional security. The people of Nagorno-Karabakh deserve far better. The blockade must be ended. The UK must play a key role, and we will continue to work with Ministers on the issue. I thank all colleagues for their insights and contributions.
Rupa Huq (Ind)
We have heard about the faux eco protesters; we know that they are not the Greta Thunberg types. It seems that Azerbaijan is emboldened by Russia's woes elsewhere. In some senses, the blockade was foreseeable. It is the latest episode in a decades-long conflict between Azerbaijan and Armenia, with Russia and Turkey involved as well.
The Armenians are a resilient people. We know that they have had repeated invasions and persecutions. I have also spoken about how what happened in 1915-16 should be recognised as a genocide. I do not want to get into inflammatory talk of ethnic cleansing now, but the cry of the self-determinists is "Ketce azat Artsakh, Կեցցէ Ազատ Արցախը"—"Long live free Artsakh." We should not let their words be in vain.
Martyn Day SNP
Tim Loughton used a phrase that summed up the whole situation perfectly, given its clarity and its historical background, when he said that it was "illegal, immoral and inhumane". I echo those comments.
This debate has helped to shine a light on a truly horrific humanitarian catastrophe, which, despite unfolding before our eyes, has gone largely unnoticed and unreported in the UK. It is therefore not surprising that there has also been a lack of effective action to resolve the crisis.