CANBERRA: The second annual Youth Advocates Program of the Armenian National Committee of Australia (ANC-AU) saw it host a dozen young Armenian-Australian participants in Canberra on 27th and 28th of November, 2019 for a practical crash-course in advocacy.
They engaged in master classes and presentations from experienced lobbyists, as well as mock political advocacy to learn and practice the art of lobbying and debate, meeting with dozens of Australia's political leaders at Parliament House.
The group, comprised of young tertiary and recently graduated secondary students, including members of the Armenian Youth Federation of Australia and the Armenian Students Association hailing from Sydney and Melbourne, joined together with Board Members and the Executive staff of ANC-AU to embark on a journey to the nation's capital.
The program began swiftly at The Diplomat Hotel, with Ms Sam Khavin from the Executive Council of Australian Jewry providing an advocacy masterclass to the Youth Advocates as a special guest.
The group then went on to participate in a parliamentary discussion at Parliament House, engaging heavily with regard to asylum seeker policies with Shadow Home Affairs Minister, Senator The Hon. Kristina Keneally and Greens Immigration Spokesperson, Senator Nick McKim.
The Youth Advocates were then split up into pairs to prepare for and to undertake their mock advocacy meetings with sitting Parliamentarians, advocating on selected issues of particular importance, both to them as Armenian-Australians and to the greater Australian community. The MPs they met included Tim Wilson MP, Dave Sharma MP, Peter Khalil MP, Chris Bowen MP, Julian Hill MP, Julian Leeser MP, Jason Falinski MP, Tony Zappia MP and Josh Burns MP.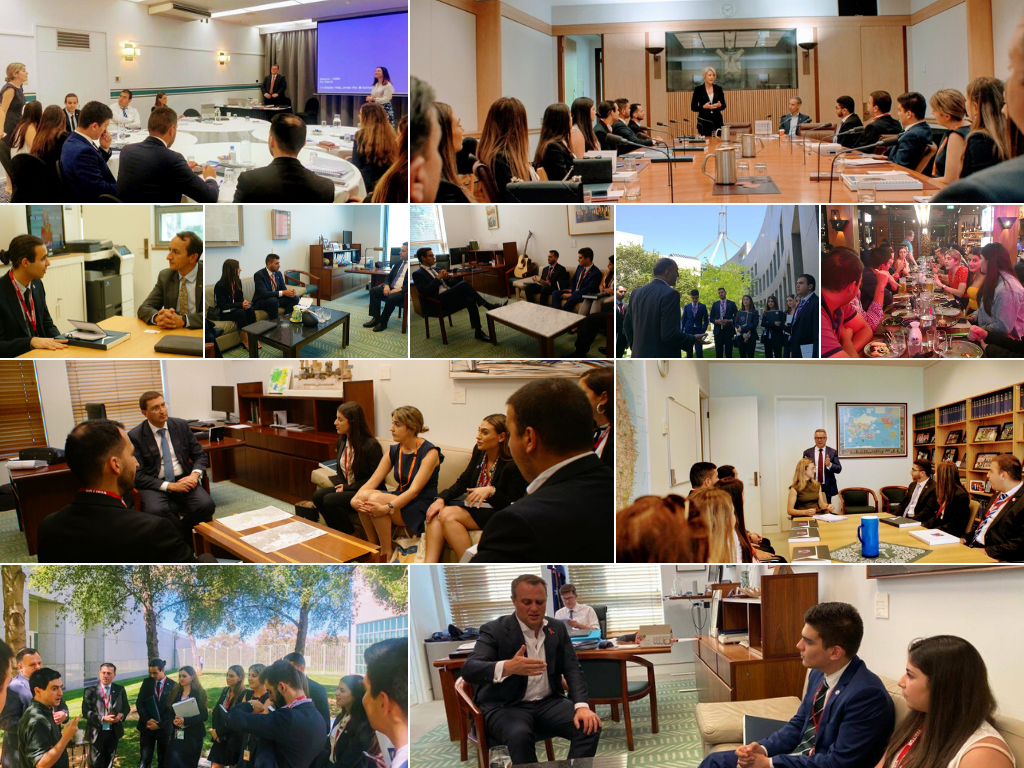 Additional advocacy meetings were continued on the second day followed by an instructional session on Parliamentary Procedures with The Hon. Joel Fitzgibbon MP – former Defence Minister and Government Whip, currently serving as the Shadow Agriculture Minister – and his staff.
The Advocates were also further given the opportunity to hear from and have a Q&A session with both Walkley Award-winning journalist and columnist from The Sydney Morning Herald Kylar Loussikian, as well as former political advisor and current Governmental Relations professional Sassoon Grigorian, gaining important and unique insights into the busy world of media and politics, as well as their roles in Parliament.
The Youth Advocates then entered the House of Representative Chamber to watch the day's Question Time session.
"The Young Advocates re-energised the Armenian Cause in Australia's Parliament, proving to our nation's political leaders that there is an endless train of advocates who will continue to battle for the issues important to Armenian-Australians," said ANC-AU Executive Director Haig Kayserian.
ANC-AU Administrator and Program Coordinator Sarine Soghomonian added: "The ANC-AU Youth Advocates had an amazing time. Beyond what they learnt and practiced, they created important bonds with fellow like-minded Armenian-Australians."
The 2019 ANC-AU Youth Advocates Program was made possible by the ANC-AU Internship Program's Hagop Kortian Scholarship, which serves to fund young Armenian-Australians looking to gain experience in the world of politics and media.
Kayserian added: "We thank the Kortian family for dedicating part of their 2019 Hagop Kortian Scholarship commitment to ensure this growing and increasingly popular Program would be as successful as it was."
* This media release was authored by 2019 ANC-AU Youth Advocate, Gayane Kortian.