— ANCA welcomes Congressional letter calling out Biden aide for recklessly ruling out Azerbaijan sanctions
– Congressman Adam Schiff (D-CA) was joined by a bipartisan group of 35 U.S. House members in calling on the Biden Administration to "use all tools at its disposal to ensure the safety of the people of Artsakh," including cutting aid and imposing sanction on Azerbaijan, which continues its over 110-day blockade of Artsakh, reported Armenian National Committee of America (ANCA).

The Congressional letter, backed by the ANCA, comes in response to a public statement by the recently appointed U.S. point person on Armenian-Azerbaijan issues, Louis Bono, who ruled out U.S. sanctions against Azerbaijan.  On March 8th, during his first official visit to Armenia, and over 80 days into Azerbaijan's Artsakh blockade, Bono announced, "This is not a time for sanctions… Sanctions would be counter-productive. It's not even under consideration at this point."

"Senior Advisor for Caucasus Negotiations, Mr. Louis Bono's reckless statement, taking Azerbaijani sanctions off the table, sets the stage for a second Armenian Genocide, by sending a green light to the corrupt Aliyev regime to continue their blockade and anti-Armenian aggression," said ANCA Government Affairs Director Tereza Yerimyan. "We appreciate Rep. Schiff and his bi-partisan colleagues' leadership on this letter calling for concrete U.S. action – including cutting aid to Azerbaijan and imposing sanctions – to break the 100-plus day Artsakh blockade."

Joining Rep. Schiff in issuing the call to the Biden Administration on Azerbaijan sanctions are: Representatives Jake Auchincloss (D-MA), Gus Bilirakis (R-FL), Tony Cardenas (D-CA), Judy Chu (D-CA), David Cicilline (D-RI), Jim Costa (D-CA), Madeleine Dean (D-PA), Anna Eshoo (D-CA), Josh Gottheimer (D-NJ), Raja Krishnamoorthi (D-IL), Barbara Lee (D-CA), Susie Lee (D-NV), Ted Lieu (D-CA), Zoe Lofgren (D-CA), Tom McClintock (R-CA), James McGovern (D-MA), Grace Meng (D-NY), Kevin Mullin (D-CA), Grace Napolitano (D-CA), Eleanor Holmes Norton (D-DC), Frank Pallone (D-NJ), Chris Pappas (D-NH), Nancy Pelosi (D-CA), Katie Porter (D-CA), Linda Sanchez (D-CA), John Sarbanes (D-MD), Janice Schakowsky (D-IL), Brad Schneider (D-IL), Brad Sherman (D-CA), Abigail Spanberger (D-VA), Haley Stevens (D-MI), Eric Swalwell (D-CA), Dina Titus (D-NV), Lori Trahan (D-MA), and David Valadao (R-CA).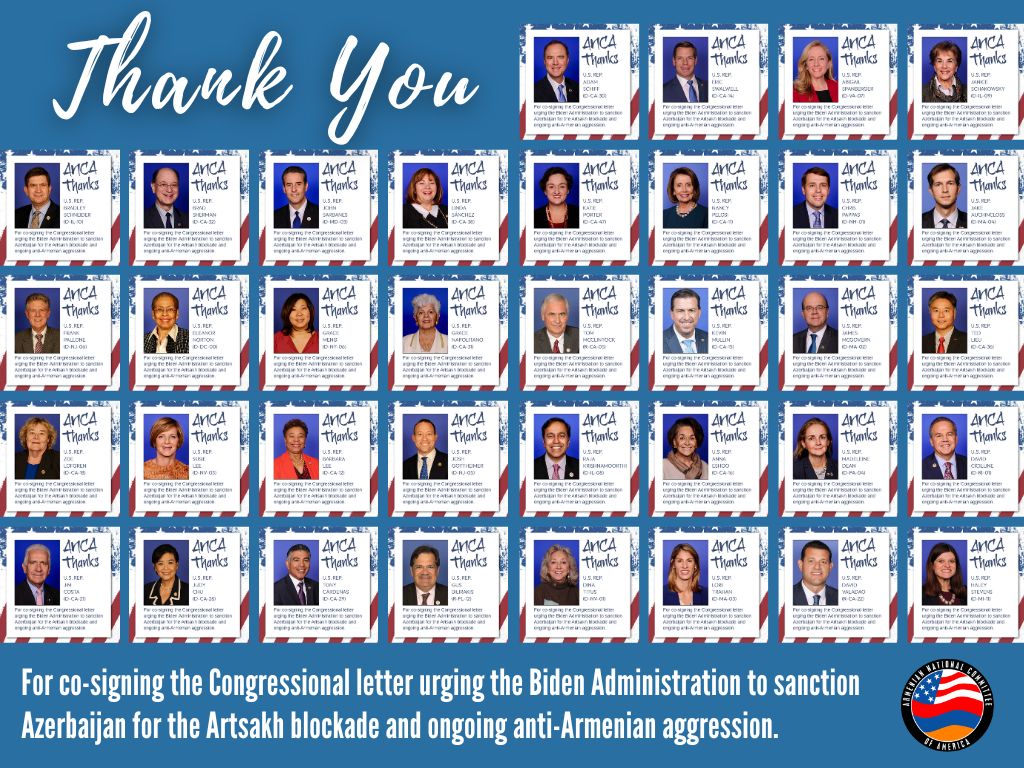 The Schiff-led Congressional letter states, in part: "We are deeply concerned by your reported comments during the trip ruling out the use of economic and diplomatic sanctions against Azerbaijan for their clear aggression. It was reported that you stated, "this is not a time for sanctions … it's not even under consideration at this point."  As 120,000 innocent people remain deprived of their basic rights in Nagorno-Karabakh (Artsakh) for a third month, due to a blockade that the International Court of Justice (World Court) has ordered Azerbaijan to lift, this is not the time to take any tools off the table."

In closing, the signatories affirm that: "The United States, the President of the United States, the U.S. State Department, and entire Administration must use all tools at its disposal to ensure the safety of the people of Artsakh, now and in the future, including cessation of financial support to Azerbaijan and imposition of sanctions."

Over 50,000 advocates responded to the ANCA's call to support the Congressional letter through the action portal – anca.org/sanctions.  Earlier this week, participants of the ANCA Rising Leaders program participated in the Lucine Kouchakdjian Capitol Hill day, during which they visited with over 400 Congressional offices in support of the Schiff-led letter, and a number of pro-Artsakh/Armenia priorities including securing passage of the anti-blockade resolution (H.Res.108), cutting military aid to Azerbaijan and increasing aid to Artsakh.

The full text of the Schiff-led Congressional letter is provided below and available at:
https://anca.org/assets/pdf/033123_Schiff_SanctionsLetter.pdf