ANCA-Backed "U.S.-Artsakh Travel and Communication Resolution" Encourages US-Artsakh Visits and Dialogue at All Levels; Endorses Royce-Engel Proposals to Strengthen Cease-Fire
WASHINGTON, DC – Congressional Armenian Caucus founding Co-Chair Frank Pallone (D-NJ) today called on his Congressional colleagues to break down artificial barriers to unrestricted travel and open communication between the United States and Artsakh (Nagorno Karabakh), with the introduction of the U.S.-Artsakh Travel and Communication Resolution, reported the Armenian National Committee of America (ANCA).

"The United States should be supporting the free flow of dialogue and ideas across the globe," said Rep. Pallone. "Artsakh has a successful democratic government and it should not be precluded from interacting with the United States and other nations. My visit to Artsakh in September further revealed the enormous strides that Artsakh has made in recent years, and others should be given the same opportunity that I had. Rather than hindering our relationship with Artsakh through non-recognition, the United States should embrace increased communications and travel to Artsakh," concluded Rep. Pallone.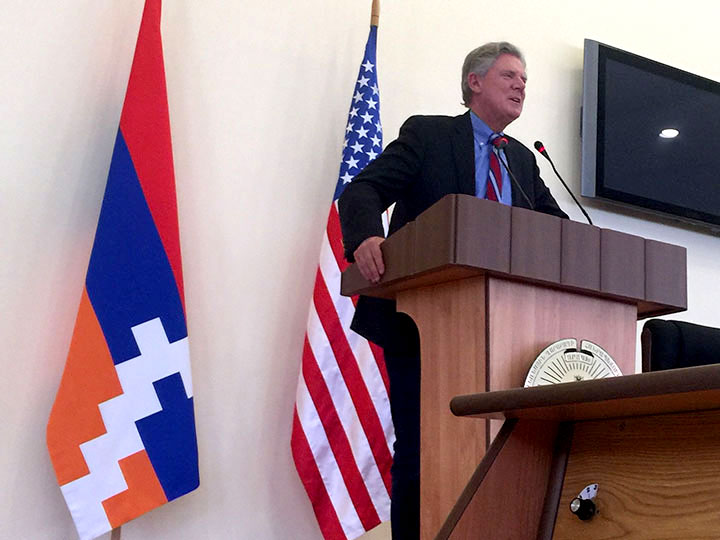 "We thank Congressman Pallone for taking a legislative sledgehammer to the walls that have, for far too long, prevented the very type of open dialogue that is so very necessary for a durable and democratic Artsakh peace," said ANCA Chairman Raffi Hamparian. "Our U.S. interests and American values are served by the open and unrestricted exchange of views among all regional stakeholders, the ability of U.S. policymakers to travel to Artsakh and witness first-hand the progress of this proud republic in the face of ongoing Azerbaijani aggression, and, ultimately, by a greater level of understanding among U.S. leaders and all regional stakeholders of the imperative of peace and the necessity of avoiding a renewed war."
The U.S. – Artsakh Travel and Communication Resolution praises the Artsakh Republic for having "developed democratic institutions, fostered a pluralist political system, and, over the past quarter-century, held parliamentary and presidential elections that have been rated as free and fair by international observers." It also highlights Artsakh's commitment to common-sense peace initiatives, first advocated by House Foreign Affairs Committee Chairman Ed Royce (R-CA) and Ranking Democrat Eliot Engel (D-NY), calling for the removal of snipers and heavy artillery from the Artsakh-Azerbaijan line of contact, the deployment of additional Organization for Security and Cooperation in Europe (OSCE) monitors, and the placement of gun-fire locator systems along the lines of contact. The measures, which have been embraced by Armenia, Artsakh, and the OSCE Minsk Group peace negotiators, have been thus far blocked by Azerbaijan.
The U.S.-Artsakh Travel and Communications Resolution notes that current State Department policies place "self-imposed restrictions on travel and communications between the United States and Artsakh, limiting oversight of United States taxpayer-funded assistance programs and discouraging the open dialogue and discourse that can contribute to a peaceful resolution of Artsakh-related status and security issues."
The measure calls for a U.S. policy which would:
1) allow officials at all levels of the United States Government, including cabinet-level national security officials, general officers, and other executive branch officials, to travel to the Artsakh Republic and openly and directly communicate with their Artsakh counterparts;
2) encourage ongoing open communication, meetings, and other direct contacts between officials of Artsakh and the Executive and Legislative branches of the United States, state and local governments, and American civil society; and
3) seek the full and direct participation of the democratically-elected government of the Artsakh Republic in all OSCE and other negotiations regarding its future.
An ANCA issue paper on the U.S.-Artsakh Travel and Communication Resolution is available on the ANCA website at: http://anca.org/USArtsakh-factsheet
Pro-Artsakh advocates can encourage their U.S. Representative to support the measure by visiting anca.org/USArtsakh
Rep. Pallone is the most traveled U.S. Congressman to the Republic of Artsakh since its independence in 1991. He last visited the region in September 2017, joined by Representatives Tulsi Gabbard (D-HI) and David Valadao (R-CA). In remarks before the Artsakh Parliament, Rep. Pallone touted the Republic's commitment to democracy, self-determination and economic development and discussed the Armenian Caucus' on-going efforts to share Artsakh's powerful story of peace and freedom with Congress and the Administration. "Whatever we do, we will always insist that Artsakh has to be Armenian and it has to be able to exercise its right to self-determination," Rep. Pallone told Artsakh Parliamentarians.
Excerpts of his September 20, 2017, remarks before the Artsakh Parliament are available on the ANCA Website at:
Rep. Pallone is currently serving his 15th term in Congress, representing New Jersey's Sixth Congressional District, which covers most of Middlesex County, as well as the Bayshore and oceanfront areas of Monmouth County. He is the Ranking Member of the House Energy and Commerce Committee, which has jurisdiction over issues pertaining to energy, environment, healthcare, commerce, and telecommunications.
As founder and a Democratic Co-Chair of the Congressional Armenian Caucus, Rep. Pallone has been a leading voice on Armenian American issues since 1988. He has been a consistent cosponsor of Armenian Genocide legislation. Working with his colleagues, he has initiated calls for expanded U.S. assistance to Armenia and Artsakh and spoken out about the plight of Armenians and other Christians in the Middle East. He has been a perennial participant at Armenian American community events, including the Armenian Genocide Observance at Times Square.
Frank Pallone, Jr., was born and raised in Long Branch, New Jersey, where he still resides. He is a graduate of Middlebury College, holds a master's degree in international relations from the Fletcher School of Law and Diplomacy at Tufts University and earned his law degree at Rutgers University.
Pallone began his political career in his home city of Long Branch, getting elected to the City Council in 1982 and winning re-election four years later. In 1983, Pallone was elected to the state Senate, representing the Monmouth County coastline. He was re-elected in 1987 and won a special election in 1988 to replace the late Rep. James Howard (D-NJ).
---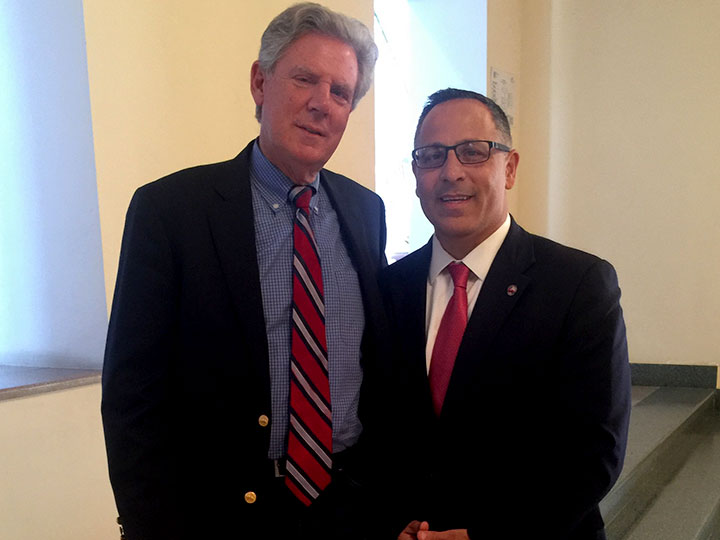 Փալոն Արցախ Այցելելու Արգելքները Վերացնելու Կոչ Կ՛ընէ Քոնկրեսին
ՈՒԱՇԻՆԿԹԸՆ.- Քոնկրեսի Հայկական համախմբումի հիմնադիր համաատենապետ Ֆրենք Փալոն Յունուար 17ին կոչ ըրաւ քոնկրեսականներուն, որ վերացնեն Արցախ այցելելու դէմ դրուած արհեստական արգելքները, Միացեալ Նահանգներու եւ Արցախի միջեւ ազատ երթեւեկութիւն ու անխափան հաղորդակցութիւն ապահովելու նպատակով։
Այս նպատակով, Փալոն Քոնկրեսին ներկայացուց Ամերիկայի Հայ Դատի յանձնախումբին աջակցութիւնը վայելող՝ «Միացեալ Նահանգներ-Արցախ ճամբորդութեան եւ հաղորդակցութեան բանաձեւ»ը։
«Միացեալ Նահանգներու իշխանութիւնները պէտք է աջակցին աշխարհի տարածքին ազատ երկխօսութիւն եւ կարծիքներու փոխանակում ապահովելու ջանքերուն։ Արցախը ժողովրդավարական յաջող կառավարութիւն մը ունի, եւ Միացեալ Նահանգներու ու այլ երկիրներու հետ անոր փափաքած յարաբերութեան դիմաց արգելքներ պէտք չէ դնել։ Անցեալ Սեպտեմբերին Արցախ կատարած մեր այցելութիւնը ցոյց տուաւ, թէ հոն որքա՛ն յառաջդիմութիւն արձանագրուած է վերջին քանի մը տարիներուն ընթացքին, եւ ուրիշներ եւս Արցախ այցելելու առիթը պէտք է ունենան», յայտարարեց Փալոն։
Ամերիկայի Հայ Դատի յանձնախումբի ատենապետ Ռաֆֆի Համբարեան իր կարգին ողջունեց Արցախի մէջ խաղաղութիւն հաստատելու ջանքերուն դէմ կանգնեցուած պատերը «մրճահարելո՛վ» քանդել փորձող Փալոնի սոյն օրէնսդրական քայլը՝ աւելցնելով, որ նման շփումներ հաստատելով աւելի՛ արագ պիտի բացայայտուին Ատրպէյճանի բռնարարքները՝ տագնապին իրականութիւնը յստակ դարձնելով ամերիկացի պաշտօնատարներուն։
Բանաձեւը լուսարձակի տակ կ՛առնէ նաեւ այն իրողութիւնը, որ Արցախի իշխանութիւնները առաջին իսկ օրէն նեցուկ կանգնած են Ներկայացուցիչներու տան Արտաքին յարաբերութեան յանձնախումբի ատենապետ Էտ Ռոյսի եւ նոյն յանձնախումբին մէջ բարձրաստիճան քոնկրեսական Էլիըթ Էնկըլզի կողմէ առաջ մղուած այն պայմաններուն, որոնց նպատակն է սահմանային բախումները նուազեցնել։
Բանաձեւին մասին մանրամասն տեղեկութեանց համար, այցելել http://anca.org/USArtsakh-factsheet կայքէջը, իսկ անոնք, որոնք կը փափաքին բանաձեւին համար իրենց շրջանի քոնկրեսականին աջակցութիւնը ապահովել, կրնան այցելել anca.org/USArtsakh կայքէջը։
Յիշենք, որ Արցախի անկախութեան հաստատումէն ի վեր՝ դէպի Արցախ ամենաշատ այցելութիւններ կատարած քոնկրեսականը կը հանդիսանայ Փալոն։ Վերջին անգամ ան Արցախ այցելեց անցեալ տարուան Սեպտեմբերին, քոնկրեսականներ Թուլսի Կապարտի եւ Տէյվիտ Վալատաուի հետ։ Այդ այցելութեան ընթացքին Փալոն նաեւ ելոյթ մը ունեցաւ Արցախի խորհրդարանէն ներս։