ANCA and ANCA-WR Team Share Benefits of Nationwide Youth Development Initiatives at ALL-ASA Leadership Retreat
WASHINGTON—The Armenian National Committee of America kicked off its 2018 youth empowerment agenda by welcoming the latest Hovig Apo Saghdejian Capital Gateway (CGP) class, a group of talented recent graduates committed to launching professional careers in Washington's competitive public policy job market. Six out of six of the Fall 2017 fellows are working professionally in the Washington, DC policy sector, five having already secured permanent full-time positions.
"There are few better ways to start a new year than helping goal-oriented recent graduates secure career opportunities in our nation's capital," remarked ANCA Program Director Tereza Yerimyan. "We are proud of the success of our fellows over the course of the past year and are encouraged by the participation of our alumni as seminar leaders and mentors, furthering the career opportunities for our fellows."

Fall, 2017 fellow Areni Margossian discussed the vital role the CGP played in her successful Washington, DC job search, sharing her experiences in a video encouraging students and recent graduates to explore opportunities in the nation's capital. "From the ANCA staff to the CGP Advisory Committee, this program is filled with the most genuine and dedicated people who only want to see you succeed," said Margossian in her video.
With the arrival of the Winter, 2018 class, Yerimyan and the CGP Advisory Committee coordinated two weeks of intensive seminars focusing on resume development, cover letter writing, interviewing and networking skills, culminating in a "meet and greet" mixer with DC area professionals. CGP fellows are now in the process of applying to jobs on Capitol Hill, with think tanks and a range of policy consulting companies.
Looking to Fall, 2018, Yerimyan joined ANCA-WR Communications Coordinator Dickran Khodanian, a CGP program alumnus, at a leadership retreat organized by the All-Armenian Student Associations (All-ASA) at AYF Camp Big Pines. Yerimyan and Khodanian led a professional development workshop, outlining how the ANCA-WR's Walter and Laurel Karabian Fellowship in Sacramento, CA, the ANCA-WR internship in Los Angeles as well as the CGP and Leo Sarkisian Summer Internship Programs in Washington, DC can offer opportunities to explore conventional and unconventional careers in policy, politics and media. They also offered a "how to advocate on campus" seminar – leading discussions on how to effectively advance Armenian American concerns at universities.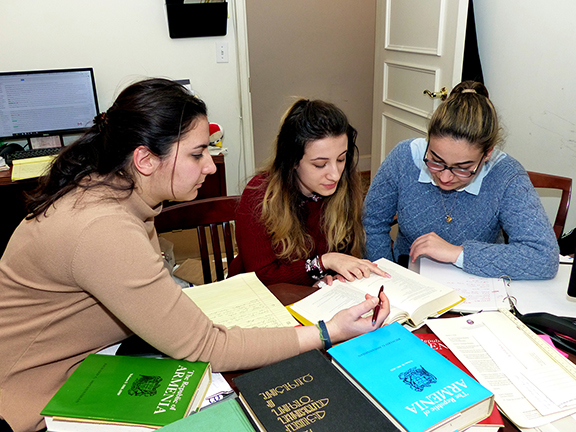 ANCA Winter 2018 Interns Advocate for Community Priorities
In addition to the six CGP fellows the ANCA is joined by interns, Paulina Markarian and Elen Dadasyan, who are looking to gain public policy and nonprofit management experience through their work at the ANCA office. Paulina Markarian is currently pursuing a Master of Arts in Legal Institutions and Theory at The George Washington University in Washington, D.C. "I believe my participation in the ANCA internship will allow me to develop strong advocacy capabilities by observing the processes in which Armenian-American issues are being represented in Congress," noted Markarian. She continued, "I am most excited to be given the opportunity to gain knowledge of and contribute to the building of better U.S.-Armenia relations."
Her counterpart, Elen Dadasyan, is a Philadelphia native and an economist-marketing specialist, who graduated from the Armenian National Agrarian University (ANAU) also referred to as Agribusiness Department/Agribusiness Teaching Center (ATC). "I am encouraged by the work of the ANCA and believe that through our united efforts, we will elevate the collective voice of Armenian Americans and achieve our goals as an Armenian nation."
The ANCA Capital Gateway Program offers fellows three months of housing, career-building workshops, and networking opportunities. Applications for the Fall 2018 session, which begins in September, are due by June 1st and are available at anca.org/gateway. In addition to recent graduates, the ANCA CGP also serves university students interested in Washington, D.C. internship opportunities– both at the ANCA offices and various governmental agencies, space permitting.
The ANCA CGP is named after Hovig Apo Saghdejian, a beloved young community leader who lost his life in a tragic car accident and whose eternal memory continues to inspire new generations of Armenian Americans. His family generously established the Hovig Apo Saghdejian Memorial Fund in his memory and, over the past decade, have played a vital role in the expansion of the program. Substantial support has also been provided by the Aramian Family, Kirk Kerkorian's Lincy Foundation, Gerry Cafesjian, Julian and Annette Setian, the Norman K. Miller Charitable Fund, Frank and Barbara Hekimian, and the Armenian American Veterans Post of Milford, Massachusetts.
The 2015 purchase of The Aramian House was made possible through a generous donation by the family of the late community leader and philanthropist Martha Aramian of Providence, R.I. The Aramian family—led by sisters Sue, Margo, and the late Martha—have long been among the most generous benefactors of ANCA programs as well as of charitable projects in the Armenian homeland and the diaspora.