SYDNEY: Former Federal Senator Mr. Graham Richardson, who served as a Minister in both the Hawke and Keating Governments and is currently host of Richo on Sky News, has been confirmed as a guest at the Armenian National Committee of Australia's (ANC-AU) Annual Gala Banquet on a night that promises to bring together some of the highest-profile supporters of Armenian issues in Australian public life.
Mr. Richardson and his wife Ms. Amanda Thompson join already-announced guests headlined by New South Wales Premier the Hon. Gladys Berejiklian. Berejiklian will be joined by another Australian politician of Armenian heritage, Mr. Tim Wilson MP, who Chairs the Australian Parliament's House of Representatives Committee on Economics.

Wilson's fellow Federal parliamentarians Senator the Hon. Kristina Keneally (Shadow Minister for Home Affairs) and Mr. Trent Zimmerman MP (Chair of House Committee on Health) will also be in attendance, as will the Speaker of the New South Wales Parliament the Hon. Jonathan O'Dea MP and prominent NSW Opposition figures including the Hon. Walt Secord MLC (NSW Shadow Treasurer) and Dr. Hugh McDermott MP. Fellow NSW State parliamentarians Mr. Clayton Barr MP and Ms. Anna Watson MP, as well as former NSW parliamentarian Ms. Amanda Fazio are also among the confirmed guests.
Mr. Richardson was a forthright supporter of Armenian Genocide recognition by Australia's parliament during his distinguished parliamentary career.
In 1987, he addressed an Armenian Genocide Commemoration Evening at the Sydney Opera House as a keynote speaker, where he articulated the undeniability of the Armenian Genocide.
"It [the Armenian Genocide] was more than a slaughter. It was the first systematic attempt in modern times to bring about the complete deliberate extermination of a nation. That is Genocide," Mr. Richardson said in his 1987 speech.
"Mr. Richardson helped pave the way for decades of advocacy achievements for Armenian-Australians – most of whom are descendants of survivors of the Armenian Genocide," said ANC-AU Executive Director, Haig Kayserian.
"We are honoured he will be joining such a distinguished and bipartisan group of supporters of Armenian issues in Australian public life."
Mr. Richardson's star rose in his term as General Secretary of the Australian Labor Party (New South Wales Branch) from 1976 to 1983.
In 1983 at age 33, he became the youngest ever Senator elected to Australia's Federal Parliament, and initially sat on Senate committees on electoral reform, regulations and ordinances, finance and government operations, and estimates in his first term of parliament. Mr. Richardson was re-elected to the Senate at the 1984, 1987, and 1993 federal elections.
In 1987, then-Prime Minister Bob Hawke named him Australia's Minister for the Environment and the Arts. In 1988, he was appointed Minister for the Arts, Sport, the Environment, Tourism and Territories, before taking over as the Federal Minister for Social Security in 1990.
In 1993, Prime Minister Paul Keating appointed Mr. Richardson his government's Minister for Transport and Communications, then Minister for Health before he took on the Minister for the Environment, Sport and Territories portfolio in 1994.
The noted "powerbroker" and "numbers man" hosts one of the most popular weekly political programs on Australian television, aptly named Richo. Mr. Richardson also co-hosts Richo + Jones on the same Sky News along with Australia's leading radio broadcaster Alan Jones.
For Network Seven, Mr. Richardson provides frequent commentary on political issues to Seven News, Sunrise and The Morning Show, as well as co-hosting election night coverage.
The inaugural winner of The Voice Armenia, Masha Mnjoyan will also perform at the 2019 ANC-AU Annual Gala Banquet, which is being held at The Hilton Sydney on 30th November 2019.
To support the Armenian National Committee of Australia with your attendance, please book your tickets and tables by consulting the phone numbers on the flyer below or online by clicking here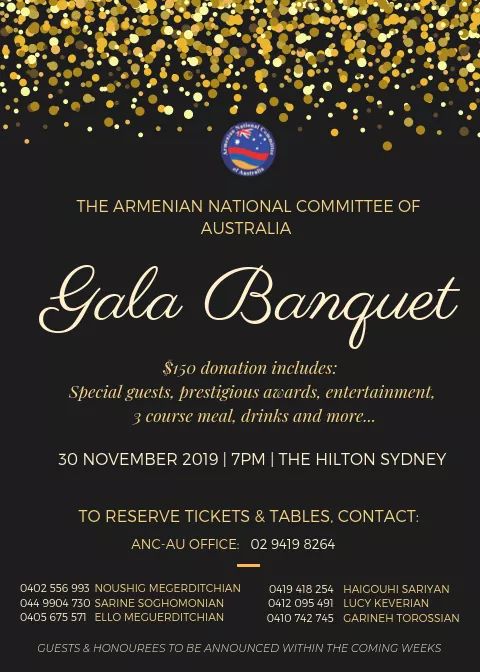 .