CANBERRA: The inaugural Youth Advocates Program of the Armenian National Committee of Australia (ANC-AU) saw around 20 young Armenian-Australians learn and practice the art of lobbying and debate, meet with dozens of Australia's political leaders, and more at Parliament House in Canberra on 17th and 18th October, 2018.
The group – made up of members from ANC-AU state branches, members of the Armenian Youth Federation of Australia and tertiary students from Sydney, Melbourne, Canberra, Perth and Auckland – spent the first of their two days in the nation's capital at The Diplomat Hotel, where public affairs professionals delivered their best tips on advocacy.
They then participated in a Parliamentary Discussion on Euthanasia, which was presided over by Trent Zimmerman MP and Joel Fitzgibbon MP – the Chair and Vice-Chair of the Australia-Armenia Inter Parliamentary Union. The Youth Advocates were then split up and visited the offices of six sitting Parliamentarians to advocate for selected issues important to them, to Armenian-Australians and the greater Australian community.
They then networked with many Members of Parliament and Senators, at the Australia-Armenia Inter Parliamentary Union event, honouring the 100th Anniversary of Armenia's First Republic. They took the attending guests through the Exhibition showcasing Armenia 100 Years Ago, Armenia Today, Armenia In The International Community, Armenia as the Silicon Valley of the Caucasus and famous Armenians.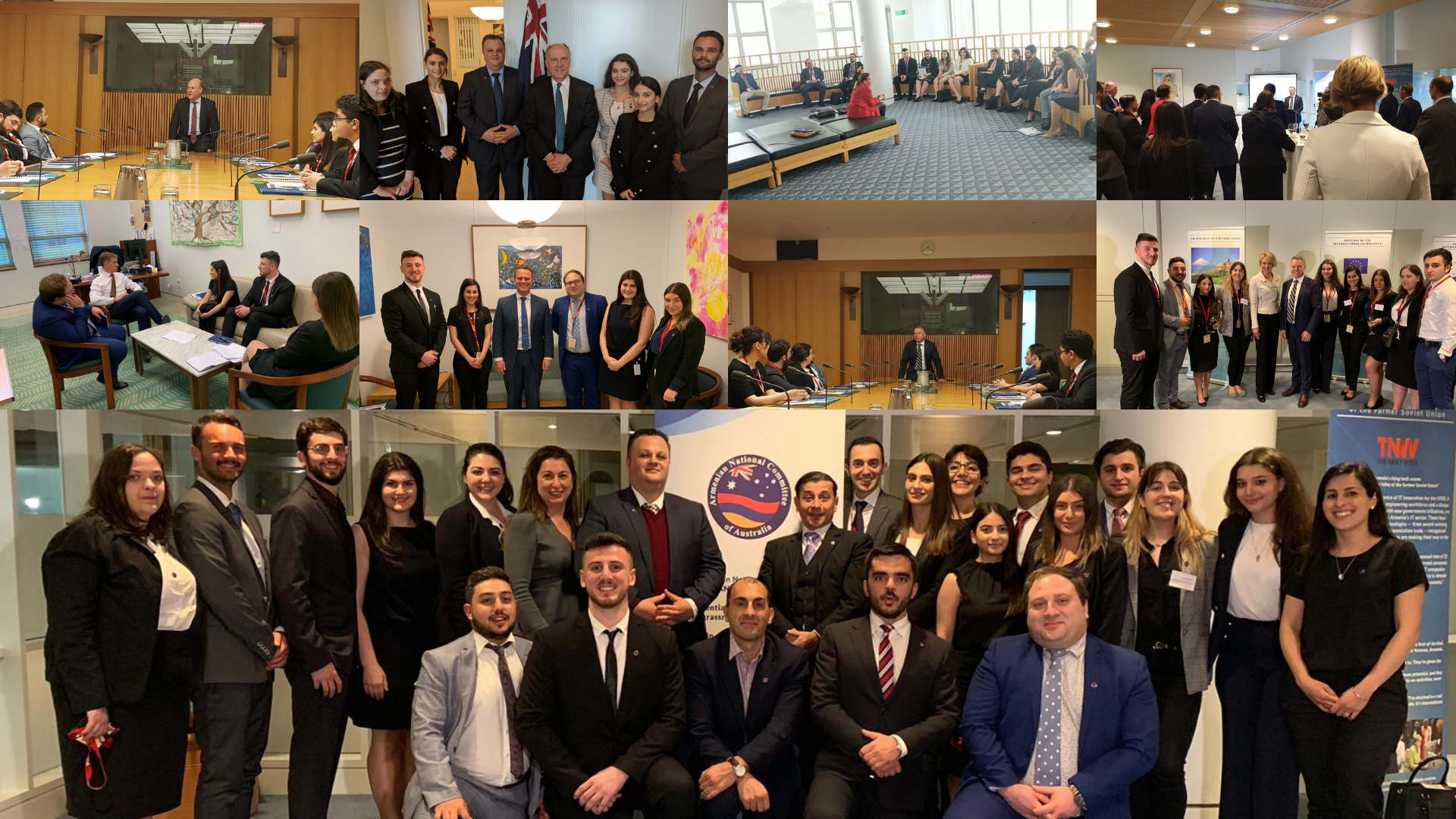 The Youth Advocates rounded up the day by witnessing the Adjournment Address in Parliament, by Jason Falinski MP (click here). The Member for Mackellar acknowledged the ANC-AU Youth Advocates, while speaking for the Republic of Artsakh's right to self-determination and the Motion to recognise the Armenian Genocide, through the prism of Australia's first major international humanitarian relief effort.
The second day included a talk on the procedures of Parliamentary Question Time, delivered by Dr. Anne Aly MP, as well as attendance at Question Time in the House of Representatives.
ANC-AU Executive Director, Haig Kayserian praised the inaugural participants of the Youth Advocated Program.
"From what we saw, our future in Armenian-Australian advocacy is in very safe hands," commented Kayserian. "To have nearly 20 young advocates from around the country, and from New Zealand, take time away from their university and their work to practice and excel at the art of Armenian advocacy, as this group did, is a testament to the Youth Advocates Program, and one we will look to repeat and grow."
The 2018 ANC-AU Youth Advocates Program was funded by the ANC-AU Internship Program's Hagop Kortian Scholarship.
Kayserian added: "We thank the Kortian family for dedicating part of their 2018 Hagop Kortian scholarship commitment to ensure this Program would be as successful as it was."