More than 250 people attend Tuesday night showing with Bared Maronian
SANTA ANA, Calif.—The much-anticipated Orange County screening of Bared Maronian's documentary, "Women of 1915," hosted by the Armenian National Committee of America Orange County chapter took place Tuesday night, January 30 at Gugasian Hall, Forty Martyrs Armenian church with a capacity crowd of over 250 community members and elected officials.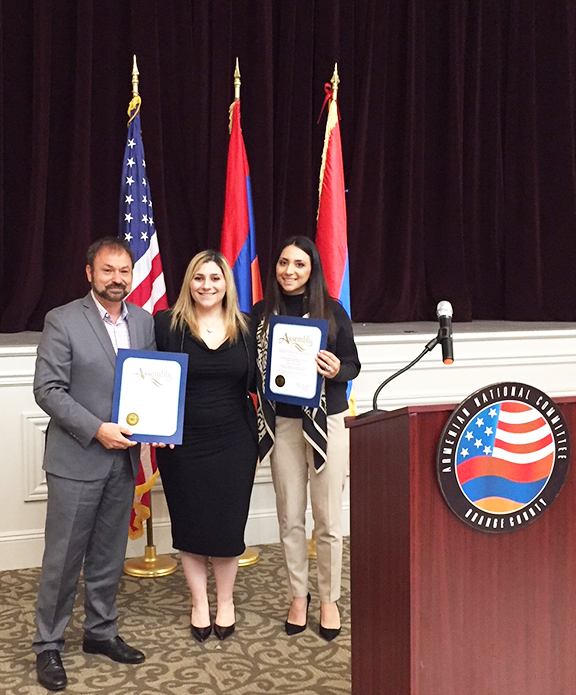 ANCA OC Board Member and mistress of ceremonies, Tatev Oganyan welcomed the community, supporters and elected representatives. She thanked the ARS Sevan chapter for preparing the appetizers and the ARF Armen Karo Gomideh for providing the wine and beverages for the evening. In her opening remarks Oganyan stated, "It was an honor for ANCA OC to host Bared Maronian's Women of 1915, a documentary that connects viewers with so many powerful and untold stories of Armenian and non-Armenian heroes of the Armenian Genocide."
Oganyan continued and recognized the numerous elected officials in attendance: Brea City councilmembers Marty Simonoff (Armenian-American serving his 6th consecutive term) and Cecilia Hupp; Cypress Mayor Pro Tem Stacy Berry; Laguna Woods Mayor Carol Moore; Westminster City Councilmember Kimberly Ho; Yorba Linda Mayor Eugene Hernandez and Mayor Pro Tem Tara Campbell; as well as Kevork Abazajian, candidate for Irvine City Council; and 76th Assembly district candidates Thomas Krouse and Elizabeth Warren. Also, in attendance were representatives from the following offices: Congressman Dana Rohrabacher, Assemblymembers Steven Choi, Matthew Harper, and Sharon Quick-Silva, OC Board of Supervisor chairperson Michelle Steel, and OC Clerk-Recorder Hugh Nguyen.
Bainka Asik, ANCA OC Board Member and Communications and Media Representative for Assmeblymember Steven Choi, presented certificates on behalf of the Assemblymember to Bared Maronian and to ANCA OC for their efforts regarding this film and their continued pursuit of justice and ensuring a historically accurate account of the Armenian Genocide.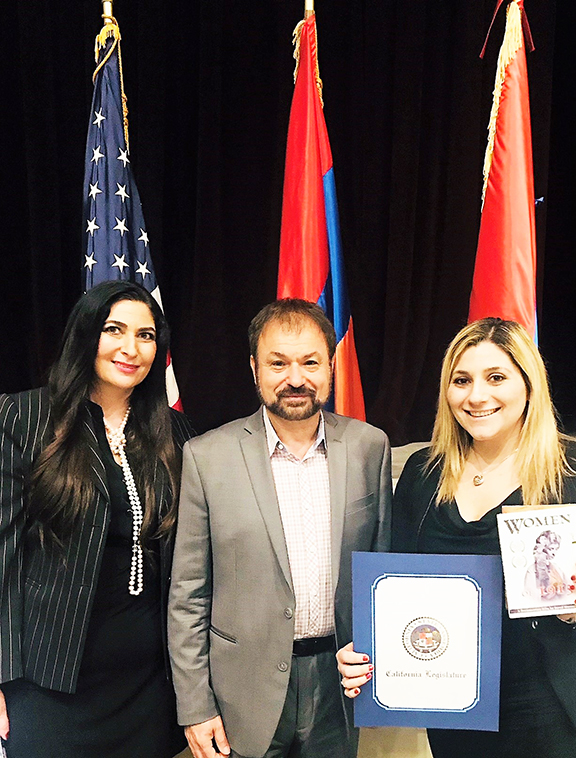 Oganyan briefly introduced the film, which was then showed to the capacity crowd of Armenian and non-Armenian attendees. The hall was completely silent as those in attendance attentively watched moving documentary.
At the conclusion of the film Oganyan recognized Vahe and Armine Meghrouni for establishing the UCI Meghrouni Family Presidential Chair in Armenian Studies. They were greeted with a thundering applause by the crowd for their contribution and efforts. She then introduced Bared Maronian who answered the many questions presented by the audience regarding this film, the Armenian Genocide, and his future projects.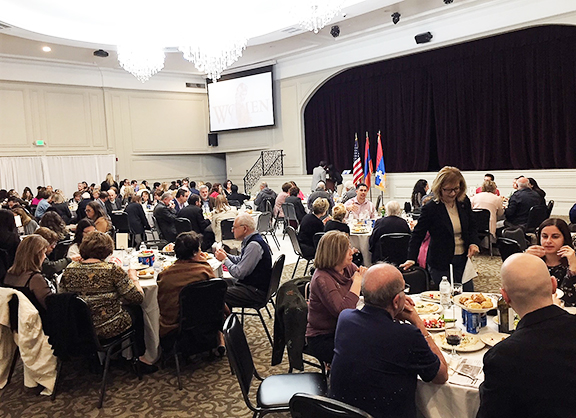 Following the frank and candid conversation with Maronian, ANCA OC Board member Alique Cherchian thanked those in attendance for continuously supporting the ANCA, the film, and closed with, "By continuing to work together we can move mountains."
Elected officials and their representatives in attendance
Congressman Dana Rohrabacher, David Gonzalez, District Executive Assistant
Assemblymember Dr. Seven Choi, Bianka Asik, Communications and media Representative
Assemblymember Matthew Harper, represented by Alique Cherchian
Assemblymember Sharon Quick-Silva, Jesse Ben-Ron, District Coordinator for
OC Board of Supervisor Chairwoman Steel, Natalie Medvedev, Policy Advisor
OC Clerk-Recorder Hugh Nguyen, Billy Le and Angelina Hernandez
Brea City Councilmember, Marty Simonoff
Brea City Councilmember, Cecilia Hupp
Yorba Linda Mayor, Eugene Hernandez
Yorba Linda Mayor Pro Tem, Tara Campbell
Laguna Woods Mayor, Carol Moore
Westminster City Councilmember, Kimberly Ho
Cypress Mayor Pro Tem, Stacy Berry
76th Assembly District Candidate Thomas Krouse
76th Assembly District Candidate Elizabeth Warren
Irvine City Council Candidate Kevork Abazajian
ANCA OC is the Orange County chapter of the Armenian National Committee of America, Western Region, and part of the most influential Armenian American grassroots advocacy organization in the Western United States. Working in coordination with a network of activists and supporters, and activists throughout Orange County and affiliated organizations and institutions in the region, it advances the concerns of the Armenian American community on a broad range of local and national issues.