LANSING, Mich. – Mari Manoogian, victorious in her campaign as the Democratic candidate for Michigan's 40th State House district, was sworn in with the 100th Legislature on Wednesday, January 9 at the Michigan State Capitol in Lansing, MI. She has also been appointed as the Assistant House Democratic Whip and will officially begin her term today, Wednesday, January 9, as the 100th legislative session commences.
She was joined by members of her family and supporters from the ANC of Michigan at the swearing in ceremony. 
Manoogian received the endorsement of the Armenian National Committee of America (ANCA) and support of the ANC of Michigan throughout her campaign.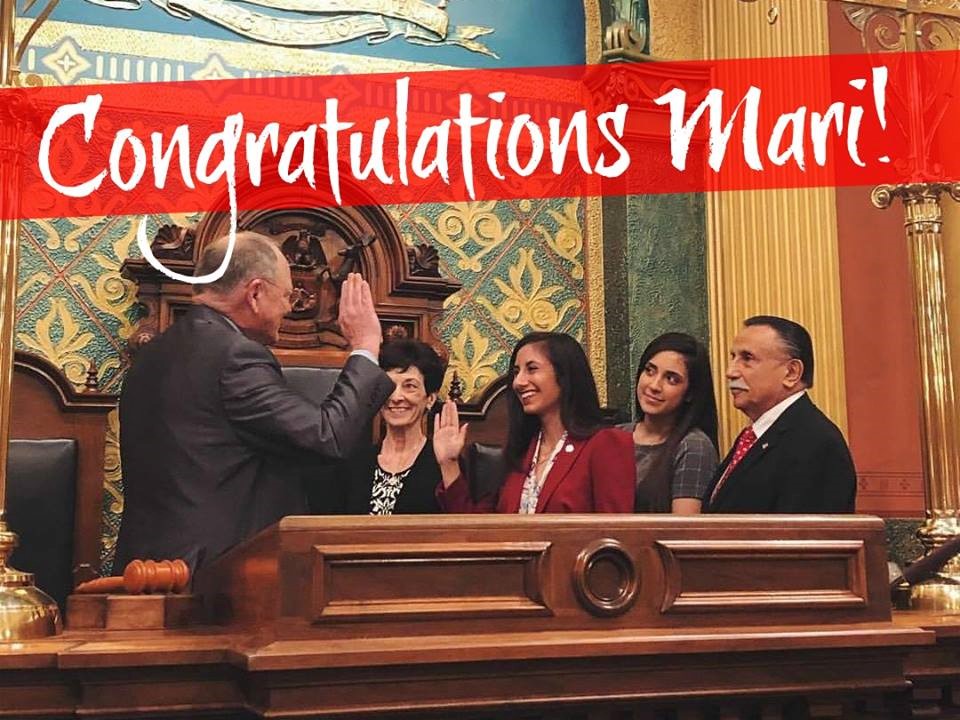 Lara Nercessian, Chairwoman, ANC of Michigan said, "The ANC of Michigan has been an ardent supporter of Mari since she announced her candidacy last year and are excited for her to begin working hard for the residents of Michigan. Our fellow Armenian Americans outside Michigan are also thrilled with her win and proud that she will join other Armenian American elected officials who can continue to work to further our cause," said Nercessian. 
Manoogian, born and raised in Birmingham, Michigan, attended George Washington University where she earned her degree from the Elliott School of International Affairs and spent years working in Washington, D.C. before returning to Michigan to begin her campaign. 
A great-grandchild of survivors of the Armenian Genocide, she is an active resident of the Metro Detroit area where she attended the Armenian Relief Society (ARS) Zavarian Armenian language school in Troy, Mich. for 10 years, participated in the St. Nersess Armenian Seminary summer conferences and was active in the Armenian Youth Federation (AYF) and Armenian Church Youth Organization of America (ACYOA). As an active member of the AGBU Young Professionals in Detroit, she has worked at AYF Camp Haiastan in Massachusetts and Hye Camp in Illinois.
"I am honored to be chosen for this opportunity and am excited to get started," Manoogian said. "I look forward to serving the residents of my district and all Michiganders by working collaboratively and creatively on legislation that tackles the critical issues facing our state, and elevating the story and perspective of Armenian Americans in the lawmaking process."
For more information about Mari Manoogian, please visit: https://housedems.com/manoogian